Here's the insider knowledge, prices and links to the websites to Berlin's best museums. It's everything you need to know to make the most of a short break.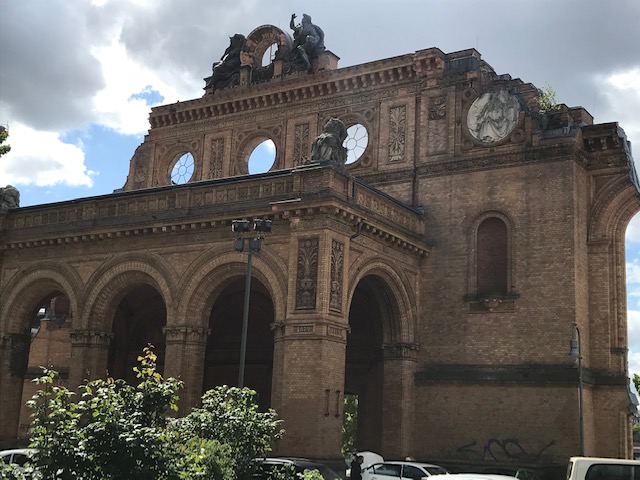 Here are top tips if you're visiting Berlin how to pack in as much as you possibly can to get a real sense of the city's history.
My name's Andy Hirst. As a journalist I've written many travel reviews and recently published a nostalgia thriller called The Blue Sapphire (http://www.ah-pr.com/work/the-blue-sapphire/) partly based in Berlin during the Second World War.
I've been a couple of times and here's my Berlin travel guide as to how you can pack in a brilliant insight into the city in just 3 days – especially if you're into history.
First of all stay in accommodation as close to Potsdamer Platz as possible as this immediately puts just about everything you need to see within a 15 to 20 minute walk. We stayed at Holiday Inn Express on Kurfurstenstrasse which cost us just over 300 Euros for 3 nights for 3 of us including a continental-style breakfast. Best of all, our 13-year-old son went free so with flights he only cost £34 and returned with renewed enthusiasm to take history at GCSE.
A must-see is the Reichstag German parliament, the Bundestag, with a guided tour. You'll need to book online well before you go – like 3 months - but it's well worth it. It's free and our tour guide had a sense of humour drier than the Sahara which added to the experience. You get a full history as you go into the debating chamber and stop outside Angela Merkel's door. The Reichstag was badly damaged during the war and if you look closely you can see where it's been patched up. The really breathtaking bit is walking up the glass dome right in the middle that gives great views cross the city.
So what are the best museums in Berlin?
Well, you're spoilt for choice as Berliners sure know how to do museums. Every one is packed with so much to see – information boards, interactive displays, pictures, videos – you need 3 or 4 hours for each one.
Here's the best we found.
Topography of Terror (https://www.topographie.de/en/topography-of-terror/) which is free. It's a new building on the site of the Gestapo, SS and Reich Security building on Wilhelm and Prinz-Albrecht-Strasse and has display boards both outside and in showing the Nazi terror machine and how it wreaked merciless horror both in Germany and occupied countries. You can buy a book for 20 Euros that includes all the information and photos on display. The book is 430 pages long which gives you an idea of the number of exhibits. There is also a large section of the Berlin Wall there. Allow at 3 hours.
There's a gem of a museum tucked away in a corner at the Brandenburg Gate called, unsurprisingly, The Brandenburg Gate Museum (https://www.brandenburgertor-museum.de/en/museum-berlin/). It's set underground and you sit with huge screens all around you telling the story of the 300-year history of the Brandenburg Gate area that includes haunting images from the end of the Second World War with Berlin in ruins and then the sheer joy of the Berlin Wall coming down. It costs just 5 Euros, lasts around 20 minutes and there is a small exhibition wall display telling the history succinctly.
Checkpoint Charlie. The infamous crossing point for the Berlin Wall remains as a tourist attraction sadly hijacked on some days by a couple of blokes dressed in American uniforms who charge 3 Euros for pictures with them. The museum (https://www.mauermuseum.de/en/start/) looks small from the outside but this is an absolute Tardis of a place which goes on and on through both downstairs and upstairs rooms telling the full history of the Berlin Wall. It features countless stories of escapes and tragedies along with impressive displays such as vehicles - usually the wonderfully odd East German Trabants - used to smuggle people across the checkpoints in ingenious ways. Adult tickets are 14.5 Euros with under 18s 7.5 Euros. Allow 3 hours.
Berlin Story Bunker museum (https://www.berlinstory.de) is a three story mass of concrete near to the Anhalter railway station that was obliterated by Allied bombing raids although its façade remains as a poignant reminder. It was used by railway passengers in the war and thousands crammed in there during the vicious Battle For Berlin in 1945.
It's main display is called Hitler: How Could It Happen and reveals the rise and fall of the Nazi dictatorship spread over three floors. Again, more exhibits than it's really possible to get round in under half-a-day –including a reconstruction of Hitler's personal study - so you'll need the best part of 3 hours. Its costs 12 Euros for adults and 9 Euros for children.
The German Spy Museum (https://www.deutsches-spionagemuseum.de/en/) takes you into the twilight world of espionage in all its forms from World War Two double agents to James Bond and right up to WikiLeaks and its founder Julian Assange who is now languishing in a UK jail. There are all kinds of exhibits in here from a camera-toting bra to a re-enactment of the famous laser scene from Entrapment when Catherine Zeta-Jones has to dodge alarm lasers to steal a priceless Chinese mask guided by Sean Connery. You can have a go at dodging the lasers on an easy, medium and hard setting.
Whatever you do don't tell any shopaholics with you that across the road are 300 shops including many designer boutiques in the Mall Of Berlin. The good news though is there are leather settees throughout the mall where the non-shoppers can sit and sulk in style.
For a far-reaching view of the city you could go up the Berlin TV Tower which dominates the skyline but it's pricey with adults 16.50 Euros and children 9.50 Euros.
Cheaper is to go to Potsdamer Platz, a 5 minute walk from the Brandenburg Gate and go up the Panorama Punkt building which gives great views and costs 7.50 Euros for adults, 6 Euros for concessions and a family ticket for 17.50 Euros. The drinks and cakes are reasonably priced. Only slight issue is that they've built a huge building next to it which blocks the view to the Reichstag but you can pretty much see everywhere else.
For travelling the Berlin Welcome Card https://www.berlin-welcomecard.de gives great value for money from 20 Euros for a 2-day pass which means you can use any transport – buses, trains and underground. And yes, it all runs smack on time and is meticulously clean. The card also gives you money off several museums such as 25% off the Berlin Bunker Museum so it's well worth it.
But as we were right in the heart of the city this time we didn't need it.
If you want a thriller to read set in Berlin then The Blue Sapphire is available on Amazon for just £1.99. Having said that, you'll be so busy you won't have time!
Andy Hirst runs his own PR company www.ah-pr.com