Waves in Slaithwaite for adults with learning and physical disabilities has devised the perfect valentine's day present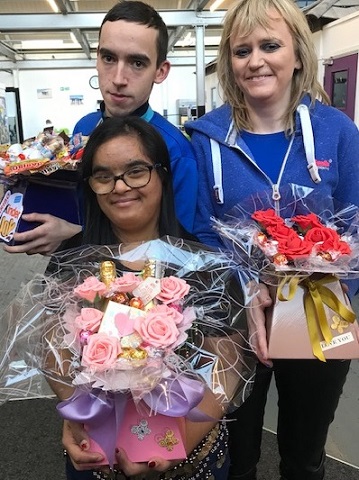 Waves day care centre in Slawit has just solved your Valentine's Day dilemma … what to buy that special someone.
The members at the centre for adults with physical and learning disabilities next to Huddersfield Narrow Canal are making fantastic chocolate bouquets that include silk flowers – roses are the most popular – complete with chocolates and even bottles of Prosecco set into them. You can have anything you want from Thorntons to Kinder chocs for the kids.
Prices start at just £5 and go up to £25 and to choose your bouquet simply call Angela Skelton at Waves on 01484 769734 or just drop into the centre between 10am and 3pm which is next to the Handmade Bakery and ask for Angela or Kayleigh.
By the way, the centre's Christmas Fayre proved very popular and raised more than £2,000 for Making Waves, the charity associated with Waves. Many, many thanks to all who attended - the members were thrilled to see so many visitors.