Andy Hirst from AH! PR writes publication revealing Huddersfield and Dewsbury's top 100 businesses in 2022/2023
The newest version of a publication featuring the top 100 businesses in Kirklees is now online … and Yorkshire-based journalist, copywriter and blogger Andy Hirst from Huddersfield PR company AH! PR has written a significant part of it
Called Kirklees Top 100 Companies 2022/2023, the publication has features on the top 10 plus many of the best-known business names in the area along with profiles on the highest new entrant, the highest climber and the highest placed SME.
It's a joint venture between the University of Huddersfield, Kirklees Council, the Huddersfield Examiner (Reach PLC) and the 3M Buckley Innovation Centre in Huddersfield.
It's a purely editorial publication to showcase businesses. Kirklees Top 100 puts the district on the map as an attractive destination for inward investment, business start-ups, scale-ups and growth.
Huddersfield Business School did the analysis to produce the list based on companies registered in Kirklees. The list is drawn up by a combination of turnover, profit, employee numbers and growth, extracted from published information in company accounts.
Andy, who was formerly Head of Content at The Huddersfield Examiner, said: "Until you've seen the list you simply don't realise the incredible companies we have here in Kirklees – some of them are world-leaders at what they do from textiles to engineering and from chemicals to computers.
"The publication also has a major feature on charities as the Kirklees area has a magnificent reputation for its commitment to helping others."
The charities profiled in this year's publication include:
Ruddi's Retreat based in Slaithwaite, Huddersfield, which provides free caravan breaks for families with disabled, seriously ill or bereaved children.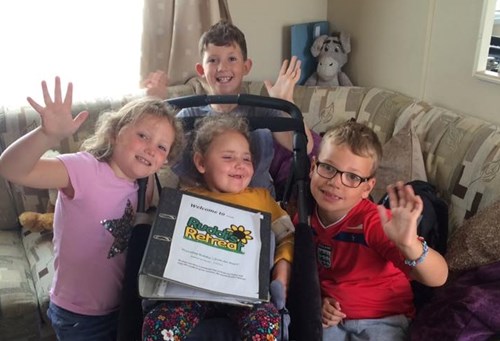 Family having fun at Ruddi's Retreat
The Forget Me Not Children's Hospice in Huddersfield which supports children with life-shortening conditions and their families across West Yorkshire.
The Fusion Food Bank is one of the largest food banks in in North Kirklees, an area which includes Dewsbury.
Give … A Few Words set up by Sharron Wilkinson in Huddersfield and now has volunteers from the town, the UK and even overseas writing positive letters and sending gifts to strangers who may be feeling isolated or would simply love to know that someone cares about them.
Yorkshire Children's Centre in Huddersfield set up by visionary educationalist Brian Jackson in the 1970s and now supports families by focusing on four key areas – education, health and wellbeing, employability and healthy relationships.
Andy is well-known for setting up the Huddersfield Examiner's Community Awards in 2000 and they ran for 21 years with Andy co-hosting them alongside ITN newsreader Nina Hossain.
To get a PDF copy of Kirklees Top 100 Companies 2022/2023 simply email Andy Hirst at andy@ah-pr.com and he'll email it to you.