Flyby Technology now recognised as the experts on drones
The story featured prominently with links back to Flyby Technology with the Society of Aerial Photography, Amazing Drones, SUAS News and UAV Expert News. The great infographic was done by my colleague Jane Moran.
Here are the links and the press release sent out is below.
https://thesoac.com/the-10-golden-rules-to-flying-a-drone-safely/
http://amazing-drones.com/2018/12/28/the-10-golden-rules-to-flying-a-drone-safely/
https://www.suasnews.com/2018/12/the-10-golden-rules-to-flying-a-drone-safely/
http://www.uavexpertnews.com/2018/12/golden-rules-for-flying-a-drone-safely/
The 10 golden rules to flying a drone safely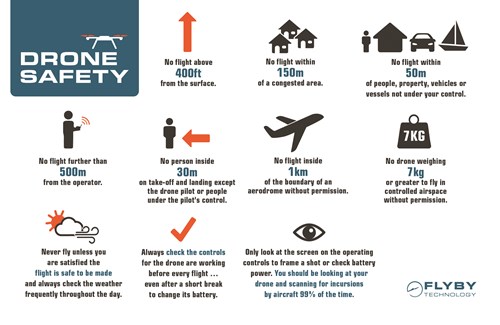 The pre-Christmas chaos at Gatwick Airport well and truly threw the spotlight on drones … and the severe disruption and danger they can cause if misused.
One of the top drone training companies in the UK is Yorkshire-based Flyby Technology (https://www.flybydronetraining.co.uk/), recognised experts within the industry who gave informed, expert comment to national and international media on drones during the Gatwick crisis. Its trainers have more than 600 YEARS flying experience between them.
Most of the trainers are former RAF fighter pilots and the chief examiner, Jon Parker, has drawn up a list for drone operators 10 golden rules to follow in the wake of the Gatwick incident.
He said: "Many people may have received drones for Christmas and it's vital they follow these safety rules to make sure they operate them in a safe manner.
"As you'll see, whoever used drones at Gatwick Airport deliberately flouted several of these rules."
Endangering the safety of an aircraft is a criminal offence which can lead to a prison sentence of up to five years.
The Government passed legislation earlier this year making it illegal to fly a drone within 1km of an airport or airfield boundary in the UK.
Flying higher than 400ft is also banned as it increases the risk of an accident with a manned aircraft. Anyone who breaks these rules faces unlimited fines and/or up to five years in jail.
The 10 tips are:
1. No flight above 400ft from the surface.
2. No flight within 150m of a congested area.
3. No flight with 50m of people, property, vehicles or vessels not under their control.
4. No flight further than 500m from the operator.
5. No person inside 30m on take-off and landing except the drone pilot or people under the pilot's control.
6. No flight inside 1km of the boundary of an aerodrome without permission.
7. No drone weighing 7kg (15lbs) or greater to fly in controlled airspace without permission.
8. Never fly unless you are satisfied the flight is safe to be made and always check the weather frequently throughout the day.
9. Always check the controls for the drone are working perfectly before every flight … even after a short break such as to change its battery.
10. Only look at the screen on the controller to frame a shot or to check how much power the battery has remaining. Flying the drone by looking at the screen is bad practice. You should be looking at your drone and scanning for incursions by aircraft 99% of the time. Flyby Technology call the screen the 'face magnet' for good reason. Lifting your head is lifting safety.
Flyby Technology (https://www.flybydronetraining.co.uk/) is based in York but holds drone flying courses nationwide.