Freelance journalist Andy Hirst from AH! PR secures international news coverage for Yorkshire company
The brief was to secure as much news coverage as possible … and Yorkshire freelance journalist Andy Hirst ended up getting the story published in at least 7 international publications.
The story was that a fire safety device called an AvSax is now on board the 20-plus helicopters operated by specialist aerial emergency medical services (EMS) company Babcock in the UK.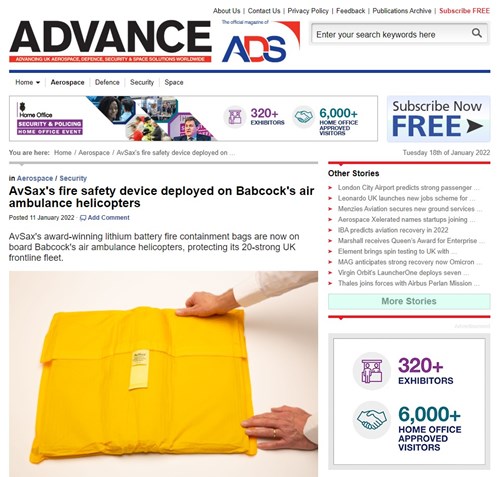 The company took an in-depth look at the potential risks posed by lithium-ion batteries on aircraft and concluded it needed specialist AvSax battery fire containment bags – also known as firebags or battery bags - on board their UK air ambulance fleet. Lithium batteries power everyday electronic devices such as mobile phones, laptops and iPads along with some medical equipment on air ambulances.
This means that if a lithium battery overheats or catches fire - a process known as thermal runaway - the crew can seal the device it is powering inside one of the specialist AvSax lithium battery fire mitigation bags so it poses no danger to the aircraft even if the battery bursts into flames.
The AvSax invention won the Queen's Award for Enterprise for its innovation – and Andy Hirst, who is also a copywriter and blogger – had successfully filled in and submitted the forms for the award for his Huddersfield-based client Environmental Defence Systems Ltd.
The story he wrote and submitted to media about the AvSax on air ambulance helicopters has now been published on several well-known international helicopter, aircraft, aerospace and defence magazines including ADS Advance, Helicopters magazine, Vertical magazine, Helihub and AvFoil News. It also featured on world-renowned aviation news website Curt Lewis and on several Google Alerts.
Here are the links to the stories:
ADS Advance https://www.adsadvance.co.uk/avsax-s-fire-safety-device-deployed-on-babcock-s-air-ambulance-helicopters.html 
Vertical magazine https://verticalmag.com/press-releases/uks-frontline-air-ambulance-helicopters-carrying-award-winning-fire-safety-device/ 
Helicopters magazine https://www.helicoptersmagazine.com/an-avsax-lithium-battery-fire-containment-bag-ready-for-deployment-jpg/ 
AVFOIL News https://www.avfoil.com/helicopter/uks-frontline-air-ambulance-helicopters-carry-award-winning-fire-safety-device/ 
Helihub https://helihub.com/2022/01/19/avsax-fire-safety-device-deployed-on-babcock-air-ambulances/ 
Helis.com https://www.helis.com/database/news/battery-fire-containment-bag/?noamp=1 
Press Readers: https://www.pressreader.com/uk/huddersfield-daily-examiner/20220118/281797107362879 
Huddersfield Hub https://huddersfieldhub.co.uk/huddersfield-entrepreneurs-award-winning-safety-device-now-on-board-uk-air-ambulance-fleet/
AvSax (http://avsax.com/) are now on more than 15,373 aircraft operated by 80 airline companies. They have been used 33 times to deal with emergencies in flight since the start of 2017. They are designed to cool down the overheating device and are strong enough to withstand a blast should they explode.
If you want UK freelance journalist Andy Hirst from AH! PR to write you a business story and submit it to the media contact him via email at andy@ah-pr.com or phone 07985 654822.