How a blog from Huddersfield copywriter Andy Hirst reached number one on Google and brought thousands of visitors to a Yorkshire company's website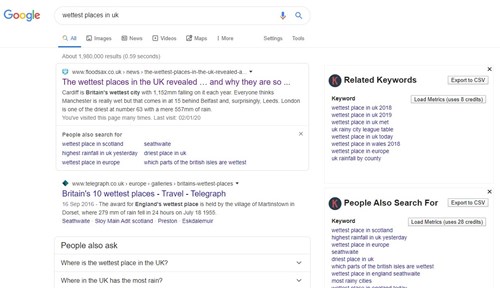 The internet 'holy grail' for most companies is to get to the number one spot on Google … without having to fork out for paid adverts.
A blog Yorkshire copywriter and freelance journalist Andy Hirst wrote for one of his main clients, Huddersfield-based Environmental Defence Systems Ltd, has brought in phenomenal results, driving hundreds of visitors a week to one of its websites, www.floodsax.co.uk, and thousands over the last few months. 
The company sells alternative sandbags which are far easier to use than traditional sandbags when flooding strikes. People are obsessed with the weather - especially where it rains - and this blog I wrote climbed to the number one spot on Google for people tapping in the search terms rainiest place in the UK or wettest place in the UK.
The same blog is at number 3 on Google for people typing in wettest cities in the UK or rainiest cities in the UK.
Here it is:
http://www.floodsax.co.uk/news/the-wettest-places-in-the-uk-revealed-and-why-the-people-who-live-there-need-floodsax-alternative-sandbags/ 
So how did we achieve this top place on Google?
It's down to the quality of the content on your website and its blog and news sections and that's by researching strong keywords, some clever search engine optimisation and plenty of readable content with smart headlines and tags in all the right places.
Google likes the blog about the rainiest places so much it's made it stand out even more by turning it into what it calls a 'featured snippet.' In short, it has a strong headline and the content itself gives the reader exactly what they want to know.
Here's how Google describes it: "We display featured snippets when our systems determine this format will help people more easily discover what they're seeking, both from the description about the page and when they click on the link to read the page itself. They're especially helpful for those on mobile or searching by voice."
So why not give it a go and let an experienced copywriter, journalist and blogger (that's me, by the way) write your website content and blogs and see just how high you can fly on Google.
After all, it's way cheaper than paying out for all those ads!