Huddersfield PR company AH! PR helps Yorkshire client win another business award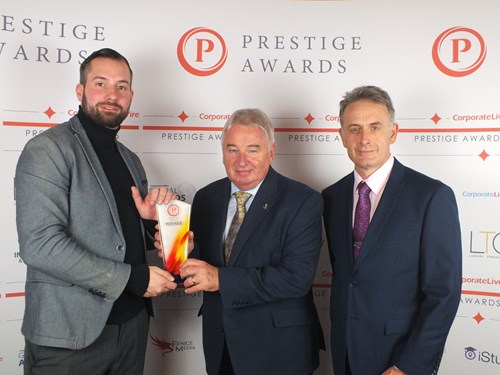 Richard Bailey (centre), managing director at Environmental Defence Systems Ltd and Andy Hirst from Huddersfield PR company AH! PR receive the Leeds and West Yorkshire Prestige Award from Daniel Jones from the Prestige team.
Huddersfield copywriter Andy Hirst from AH! PR has helped a Yorkshire company win a regional award for its three innovative products – including a 'sandless' sandbag.
Environmental Defence Systems Ltd (EDS) is a pioneering Yorkshire-based company that has three products – FloodSax, BlastSax and AvSax - which are saving property and lives worldwide.
The Huddersfield business has been named Innovative Product Supplier of the Year in the Leeds and West Yorkshire Prestige Awards 2020.
The application process was done by Andy Hirst from Huddersfield PR company AH! PR who also successfully applied for EDS to win a coveted Queen's Award for Enterprise for its AvSax fire containment bags in 2018 – the top award any business can get.
More than 15,350 AvSax fire containment bags are now on aircraft operated by 80 airline companies across the world – including some of the biggest and best-known. AvSax have been used 32 times to deal with emergencies since the start of 2017. Deployment is so effective that extremely expensive diversions to alternate airports are avoided. 
FloodSax alternative sandbags are space-saving to store and quick and easy to deploy so homes and businesses can be protected from flooding and leaks 24/7. They resemble a large pillowcase until they come into contact with water and then a special gelling polymer inside them absorbs the water which transforms them into 'sandbags' but without any sand. They can be used to build barriers to stop floodwater getting in or can simply be put on leaks and spills and will soak them up.
BlastSax are military grade sandless sandbags engineered to mitigate the impact of small explosive devices and can be taken to the scene and deployed far more quickly than conventional sandbags. They have also proven to be able to stop bullets.
EDS managing director Richard Bailey said: "It's great to pick up another award, especially as the AvSax has previously won the Queen's Award for Enterprise. Andy knows our company and its products so well I just leave all the form-filling to him and he put in another excellent application."
EDS products are sold all over the world from the USA to Australia and Europe to the Far East.
Andy is a former news editor on a highly respected Yorkshire newspaper and is now a journalist, blogger and copywriter who runs his own agency, AH! PR. Clients range from the country's top drone-training company through to a leading waste management operator.
He has a strong track record of getting clients to the top page on Google simply by using the power of the written word rather than them having to spend a fortune on Google adverts.