Drone magazine loved flying 'sandless sandbag' story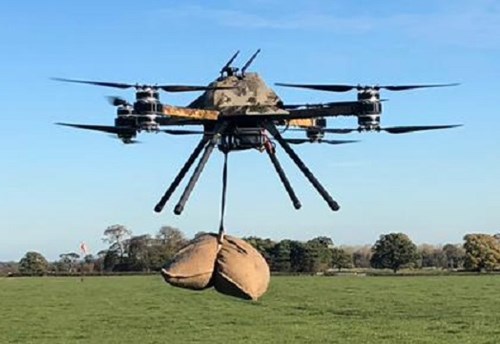 A highly specialised military drone is set to carry pioneering anti-blast 'sandbags' to deal with terrorist threats.
It can now be revealed that the world-leading drone is undergoing tests to carry BlastSax 'sandless sandbags' to put around suspicious devices.
The drone – known as The Protector - is so sophisticated it can even fire a high tech projectile at a suspicious package from as far away as 30 metres to 'disrupt' it and hopefully stop it from detonating. Its full title is the SRWO3 EOD UAV and has been designed by SteelRock Technologies (www.sruav.co.uk) to tackle a range of improvised explosive device (IED) threats.
The drone has just undergone tests showing it carrying two BlastSax weighing around 40kg to put around a device.
BlastSax (www.blastsax.com) have undergone extensive trials with the British armed forces and can save lives by mitigating explosions from IEDs while helping to preserve the evidence. They have been shown to be more effective than sandbags at capturing fragments from explosive devices and helping forensic teams gather evidence. They are manufactured by Environmental Defence Systems Ltd (www.edslimited.co.uk) based in Huddersfield, West Yorkshire, and they have teamed up with SteelRock Technologies who will be using a drone they have specially designed for use by Royal Engineers experts for bomb disposal.
SteelRock chief technical officer Chris Hamer said: "It's a multi-purpose drone that has such a specialised thermal imaging camera it can even find IEDs buried beneath the surface of the ground so there is a real chance of discovering a device without the need for operatives to walk up to it."
Simon Gardner, SteelRock's director for special projects and EOD operations, added: "The drone is a heavy lift platform so can carry quite a lot of weight. It means two BlastSax can be carried at a time to place around the device to limit the explosive's capacity and so minimise risk."
Environmental Defence Systems managing director Richard Bailey said: "The threat of an IED is now always present anywhere in the UK and are often deployed in rucksacks or similar bags which is why ways of dealing with this threat are constantly being devised and tested to help keep the public safe."
He added that the drone can also carry a cube called a Drone Cone which can help to mitigate the effects of certain types of devices, but no more information can be revealed about how this works.
The drone can also be used for humanitarian missions such as dropping medical and other vital supplies in warzones and other highly dangerous areas. Although little more can be revealed about its capabilities it's understood it can run on hydrogen if needed rather than its usual polymer battery.
SteelRock is based in London with a research and development centre in Wales.
This story was published by Drones UAV UAS website at http://dronesuavuas.com/anti-explosive-device-drone-undergoes-tests-to-help-tackle-terror-threat-in-uk/