Media coverage for company that handed over the reins to its employees
When Yorkshire based security and cleaning company Britsafe wanted some news coverage it turned to AH! PR for help.
Paul Cody founded security and cleaning company Britsafe 30 years ago which now employees 500 people throughout the UK with its headquarters in York.
Rather than sell the company to a rival or risk it being taken over with the possibility of job cuts, the former soldier has turned it into an employee-owned business so they'll be in control when he retires.
This means the employees effectively all have a stake in the company and will get tax-free bonuses if the business continues to do well.  It also means every employee has the incentive to do their very best for the business and play their part in its future success.
Britsafe is the first security company in the UK to set up an Employee Ownership Trust although some well-known businesses already run this way, including the John Lewis Partnership and Aardman animations, creators of world-renowned films Wallace & Gromit, Shaun the Sheep and Chicken Run.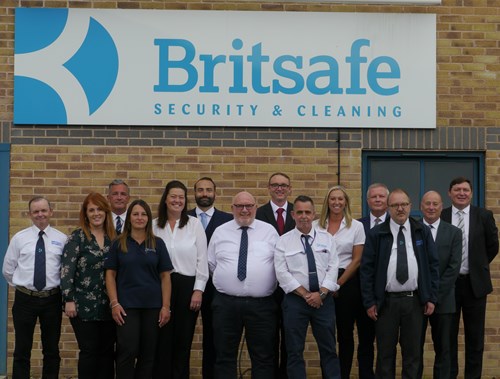 Britsafe managing director Paul Cody with staff at their York headquarters
Paul said: "It's an exciting prospect for our employees, giving them a direct investment in their future income. But, more importantly, in these desperate times of rising costs, it gives the employees stability and job security.
"It gives them collective control of their future and keeps considerably more money in employees' hands which, in turn, encourages them to keep delivering outstanding service to our clients."
Britsafe's headquarters are in York but they cover the whole of the UK, providing professional security and cleaning services to major commercial companies.
Andy Hirst from AH! PR wrote and circulated the news release and this is the coverage it achieved.
https://bmmagazine.co.uk/in-business/forward-thinking-boss-transfers-company-to-employees-to-provide-job-security/
https://www.examinerlive.co.uk/news/business/generous-yorkshire-boss-explains-hes-24998612
https://employeebenefits.co.uk/britsafe-transfers-business-ownership-to-employees/
https://www.yorkpress.co.uk/news/21565755.founder-transfers-ownership-staff/
https://uk.news.yahoo.com/york-boss-transfers-firm-ownership-145100902.html
https://uk.finance.yahoo.com/news/york-boss-transfers-firm-ownership-145100902.html