National media coverage for another story written by Yorkshire freelance journalist, blogger and copywriter Andy Hirst
A story AH! PR owner Andy Hirst has written about a Huddersfield food bank has been published by the media nationwide ... including the Daily Mirror.
Andy has always been a very community-minded journalist and voluntarily writes a feature on a charity, good cause or community group most weeks to give them much-needed publicity.
In early October he interviewed Kate Auger, Chief Executive at The Welcome Centre in Huddersfield which he then sent to the media and it was picked up nationwide as well as in Yorkshire.
Newspapers and online websites carried the report in places as far away as Surrey, Bristol, Reading and Derby. It also featured on the Yorkshire Live website which covers the whole of Yorkshire and the positive news website for Huddersfield called Huddersfield Hub.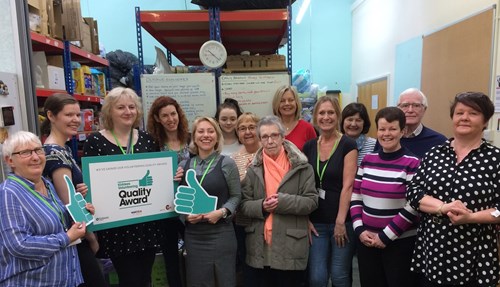 Volunteers at The Welcome Centre when they received the Kirklees Volunteer Quality Award to recognise how much the charity values its volunteers
The Welcome Centre chief executive Kate Auker with staff and volunteers
Andy's commitment to writing positive stories every week is his way of giving something back to the community.
He's not only a freelance journalist but also writes content for business websites – he's a master of using keywords and search engine optimisation – blogs and news releases.
He'll also help businesses to fill in applications for awards and has done all the forms for two West Yorkshire businesses who went on to win Queen's Awards for Enterprise … the top award any business can win.
Andy's community spirit was never more to the fore than when he devised the Huddersfield Daily Examiner's Community Awards and co-hosted them with ITN newsreader Nina Hossain for 10 years – and in 2020 was invited to do them online for the first time.
As usual, before the awards Andy wrote about everyone who was nominated and shortlisted into the final three across the 13 categories.
The Huddersfield Daily Examiner is part of the giant Reach PLC media organisation and the success of these awards meant they were a trailblazer for lots of other Reach awards to go online during the pandemic.
Huddersfield Examiner editor Wayne Ankers said: "Andy did an incredible job co-ordinating coverage and presenting the Examiner's first virtual Community Awards. He has a fantastic rapport with co-host Nina Hossain and is the ultimate professional. It is an absolute pleasure to work with somebody who cares about the community like Andy does."
Simply contact Andy to find out how he can help your business enhance its profile on Google and get news coverage.
Here's where the Welcome Centre feature has been published so far.
Daily Mirror
https://www.mirror.co.uk/news/uk-news/foodbank-boss-warns-winter-worse-25246494
Yorkshire Live
https://www.examinerlive.co.uk/news/west-yorkshire-news/huddersfield-foodbank-boss-human-misery-21894222#comments-wrapper
Huddersfield Hub
https://huddersfieldhub.co.uk/food-poverty-and-energy-crisis-set-to-be-far-worse-than-1980s-warns-the-welcome-centre-food-bank/
Wales Online
https://www.walesonline.co.uk/news/uk-news/foodbank-boss-says-winter-far-21899069
Surrey Live
https://www.getsurrey.co.uk/news/uk-world-news/foodbank-boss-says-winter-far-21899069
Derby Telegraph
https://www.derbytelegraph.co.uk/news/uk-world-news/foodbank-boss-says-winter-hardship-6080508
Bristol Live
https://www.bristolpost.co.uk/news/uk-world-news/foodbank-boss-says-winter-hardship-6080508
Reading
https://www.getreading.co.uk/news/uk-world-news/foodbank-boss-says-winter-far-21899069