Phenomenal media coverage for press release written by West Yorkshire copywriter, blogger and journalist Andy Hirst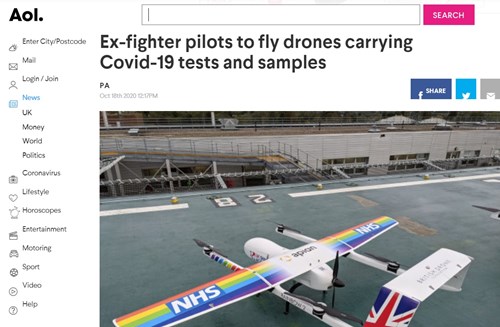 Yorkshire copywriter, blogger and journalist Andy Hirst has achieved massive media coverage for a drone company.
Former RAF fighter pilots from Yorkshire-based company Flyby Technology (https://www.flybydronetraining.co.uk/) are using drones to fly Covid-19 Test and Trace samples to hospitals.
Andy - who runs Huddersfield PR company AH! PR - wrote this press release with photos and video (below) and it featured in local, regional, national and international media. A list of some of the media which published it is below the press release.
Former newspaper Head of Content Andy said: "The range of media that used the story was phenomenal from major online news websites such as Wales Live and Yorkshire Live through to the news feeds for email giants AOL and MSN, search engine Yahoo and specialist online drone publications worldwide. National newspaper The Daily Star also published it along with the Standard in London and Euro Weekly News.
"Everyone has a story to tell so why not let me tell yours and then circulate it to the media. Simply contact me at http://ah-pr.com/contact."
Andy write blogs for several companies which often puts them on the first page of Google such as this one http://ah-pr.com/work/how-a-blog-reached-number-one-on-google-and-brought-thousands-of-visitors-to-a-yorkshire-companys-website/.
He's always up for a chat as to how he can help businesses raise their online profile without going to the expense of throwing a fortune at advertising, especially Google Ads.
He added: "I've a client with a daily budget of £100 to spend on Google Ads and often that's gone within a couple of hours and the advert then disappears. But content written for websites, blogs and press releases is a fraction of the costs of a Google Ads campaign yet remains on the internet permanently."
Here's the press release
Former RAF fighter pilots using drones to fly Covid-19 Test and Trace samples to hospitals
Some of the best pilots in the UK are flying Covid-19 Test and Trace samples by drones in a pioneering move to ease pressure on the NHS during the coronavirus pandemic crisis.
It can now be revealed that the drones are being piloted by former RAF, Royal Navy and combat helicopter pilots who are recognised as the top drone trainers in the UK and all work for leading unmanned aircraft training company Flyby Technology (www.flybydronetraining.co.uk) which is based in York.
Flyby founder Jon Parker, himself a former RAF fighter pilot, said: "We are talking about the kind of aerial innovation here that has been missing since the days of the Apollo space missions and it has moved forward exceptionally quickly over the last few months. We are learning some great lessons from our successes so far."
Flyby Technology is part of the British Drone Consortium which is flying live Covid samples to laboratories from hospitals and tests sites in support of NHS Test and Trace.
Jon said: "It's a privilege for the British Drone Consortium to be called upon in the NHS' hour of need. The drones are supplementing current logistics, keeping the testing machines operating to capacity. This makes the whole system more efficient, bringing to bear the full capacity of the testing infrastructure."
The drones will also carry test kits and personal protection equipment between hospitals and will mean delivery can be quick, reducing pressure on NHS staff, avoiding unnecessary physical contact and minimising the risk of secondary transmission of the virus.
The first project is based at Broomfield Hospital in Chelmsford, part of Mid and South Essex NHS Foundation Trust, and is being run by a company called Apian Ltd founded by clinical entrepreneurs and doctors Hammad Jeilani and Christopher Law. Apian is installing 'dronepad' infrastructure so remote-controlled aircraft can take-off and land onto hospitals, laboratories and warehouses.
Christopher Law from Apian said: "Covid-19 has highlighted challenges in NHS supply chain logistics. There has never been a better time to create a faster, more dependable and environmentally friendly method of transporting medical supplies. We are confident that by setting up a medical drone delivery service we'll be able to fly samples to labs more regularly, reliably and quickly, improving patient health outcomes."
Apian is working with the Civil Aviation Authority, the UK Space Agency and the emergency services to provide a network of secure air corridors designed to safely, rapidly and effectively allow drone delivery across the NHS.
A government spokesman said: "While Apian's current task to rapidly deliver Covid-19 samples and PPE is in line with both Government and NHS priorities, NHS England anticipates that the recovery phase of this pandemic can significantly benefit from drones delivering other medical payloads including equipment, medications, blood packs and more.
"Therefore, investing in their solution will continue to provide the NHS with an enhanced logistics system even after the pandemic is behind us."
Ends
This is the media coverage the story achieved
Press Association
Euro Weekly News (direct link to Flyby)
Yorkshire Live
Northants Live
The World News
Daily Star
Wales Online
News on AOL.com
Forces.net
Cambridgeshire Live
Somerset Live
Bristol Live
Plymouth Live
Coventry Live
MSN News
Newsbreak.com
Express and Star covering West Midlands and Staffordshire
Evening Standard in London
My London News
York Evening Press
SUAS News (direct link to Flyby)
Live Drone News.com
Commercial Drone Professional
Aviation Pros
BBC Science Focus magazine (direct link to Flyby)
Science Focus.com (direct link to Flyby)
The Scotsman
Central Fife Times
Northern Echo (Sunderland)
Largs and Millport Weekly News. Ayrshire, Scotland
Basildon, Canvey and Southend Echo
Engineering and Technology Journal
Evening Express (Aberdeen)
The Herald in Scotland
The Courier in Scotland covering Dundee, Fife, Perth, Perthshire and Angus
Farmweek.com
Talk News
Celebrity Tidings.com
Canada News
News Knowledia.com
UK Finance on Yahoo
Metinews.com
Flipboard.com
Direct links to the stories 
https://www.euroweeklynews.com/2020/10/19/breaking-news-ex-fighter-pilots-fly-drones-with-coronavirus-kits-between-nhs-hospitals/
https://www.examinerlive.co.uk/news/local-news/former-raf-fighter-pilots-york-19134389
https://www.northantslive.news/news/uk-world-news/top-gun-pilots-fly-drones-4618510?cmpredirect=
https://twnews.co.uk/gb-news/ex-fighter-pilots-to-fly-drones-carrying-coronavirus-kit-between-nhs-hospitals
https://www.dailystar.co.uk/news/latest-news/ex-fighter-pilots-fly-drones-22867318
https://www.walesonline.co.uk/news/uk-news/top-gun-pilots-fly-drones-19126468
https://www.aol.co.uk/news/2020/10/18/ex-fighter-pilots-to-fly-drones-carrying-covid-19-tests-and-samp/
https://www.forces.net/news/ex-fighter-pilots-fly-drones-carrying-covid-19-tests
https://www.cambridge-news.co.uk/news/uk-world-news/top-gun-pilots-fly-drones-19126468
https://www.somersetlive.co.uk/news/uk-world-news/top-gun-pilots-fly-drones-4618510
https://www.bristolpost.co.uk/news/uk-world-news/top-gun-pilots-fly-drones-4618510
https://www.plymouthherald.co.uk/news/uk-world-news/top-gun-pilots-fly-drones-4618510
https://www.coventrytelegraph.net/news/uk-world-news/top-gun-pilots-fly-drones-19126468
https://www.msn.com/en-gb/news/uknews/ex-fighter-pilots-to-fly-drones-carrying-covid-19-tests-and-samples/ar-BB1a9nm5
https://www.newsbreak.com/news/2084708831026/ex-fighter-pilots-to-fly-drones-carrying-covid-19-tests-and-samples
https://www.expressandstar.com/news/uk-news/2020/10/18/ex-fighter-pilots-to-fly-drones-carrying-covid-19-tests-and-samples/
https://www.standard.co.uk/news/uk/fighter-pilots-drone-coronavirus-tests-hospitals-a4572050.html
https://www.mylondon.news/news/uk-world-news/top-gun-pilots-fly-drones-19126468
https://www.yorkpress.co.uk/news/18803447.former-raf-pilots-using-drones-fly-covid-19-samples-hospitals/
https://www.suasnews.com/2020/10/former-raf-fighter-pilots-using-drones-to-fly-covid-19test-and-trace-samples-to-hospitals/
http://www.livedronenews.com/news/297831/former-raf-fighter-pilots-using-drones-to-fly-covid-19test-and-trace-samples-to-hospitals
https://www.commercialdroneprofessional.com/former-raf-and-navy-helicopter-pilots-fly-test-and-trace-sample-drones
https://www.aviationpros.com/aircraft/unmanned/press-release/21158993/flyby-technology-covid19-test-and-trace-samples-and-ppe-equipment-being-flown-to-hospitals-by-drone-pioneers-flyby-technology
https://www.sciencefocus.com/news/drones-to-carry-covid-19-samples-between-uk-hospitals/
https://www.scotsman.com/health/coronavirus/covid-squadron-team-ex-fighter-pilots-fly-drones-ferrying-samples-across-uk-3007292
https://www.centralfifetimes.com/news/national-news/18803655.ex-fighter-pilots-fly-drones-carrying-covid-19-tests-samples/
https://www.thenorthernecho.co.uk/news/18803737.covid-need-know-monday-morning-october-19/
https://www.largsandmillportnews.com/news/national-news/18803655.ex-fighter-pilots-fly-drones-carrying-covid-19-tests-samples/
https://www.echo-news.co.uk/news/18804667.essex-coronavirus-ex-fighter-pilots-fly-drones-carrying-covid-19-tests/
https://www.edinburghnews.scotsman.com/health/coronavirus/covid-squadron-team-ex-fighter-pilots-fly-drones-ferrying-samples-across-uk-3007292
https://eandt.theiet.org/content/articles/2020/10/secure-air-corridors-will-allow-drone-deliveries-for-covid-19-healthcare-supplies/
https://www.eveningexpress.co.uk/news/uk/ex-fighter-pilots-to-fly-drones-carrying-covid-19-tests-and-samples/
https://www.heraldscotland.com/news/national-news/18803655.ex-fighter-pilots-fly-drones-carrying-covid-19-tests-samples/
https://www.thecourier.co.uk/news/uk-world/1661023/ex-fighter-pilots-to-fly-drones-carrying-covid-19-tests-and-samples/amp/
https://farmweek.com/ex-fighter-pilots-to-fly-drones-carrying-covid-19-tests-and-samples/
https://more.talktalk.co.uk/news/2020/10/19/ex-fighter-pilots-to-fly-drones-carrying-covid-19-tests-and-samples
https://celebritytidings.com/world-news/ex-fighter-pilots-to-fly-drones-carrying-coronavirus-kit-between-nhs-hospitals/
https://canada.shafaqna.com/EN/AL/1668979
https://news.knowledia.com/GB/en/articles/raf-veterans-to-fly-covid-tests-and-ppe-to-uk-hospitals-in-minutes-via-541da5db3357b5652e33d9e2db3f2ca17358dff6
https://uk.finance.yahoo.com/news/ex-fighter-pilots-fly-drones-161713069.html?guccounter=1&guce_referrer=aHR0cHM6Ly93d3cuZ29vZ2xlLmNvLnVrLw&guce_referrer_sig=AQAAAHiRTH70BFMEGYaFSvs5bw7dGKtc0_fP3zRsr17ZTZ4mzzsIKiv2WSgaZq1bwfDxwWlhH1SvEwjL6OjvMWlCWL1v_dA93Lqh_ZsWxR0uGSIEax0AxLEY5Jjekir1tWkL-T68KEB27fsn2l_AgjmGH-ymZBKEl9yl7wgFzSat4Hpg
https://metinews.com/metinews-com-ex-fighter-pilots-to-fly-drones-carrying-covid-19-tests-and-samples-between-essex-hospitals-breaking-news/125304/
https://flipboard.com/@newschain/ex-fighter-pilots-to-fly-drones-carrying-covid-19-tests-and-samples/a-9TtlBXZdQFuvk5hPOcEv1w%3Aa%3A3193889008-71f35cf5ab%2Fnewschain.uk