Who says there isn't any good news? AH! PR gets some great good news stories into the media
AH! PR has secured some great local media coverage for charities in recent weeks.
Streetbikes wanted to reveal that one of the UK's best-known cyclists has become its patron.
The Huddersfield charity collects donated bikes, ensures they are roadworthy and donates them to people who otherwise would struggle to afford one.
Its founder, Gill Greaves, asked Ed Clancy, who grew up in the Huddersfield area and still lives in the area, to be its patron … and he agreed. Ed is the most successful Team Pursuit cyclist in history, having won gold with Team GB at three successive Olympics with 2021 marking his 16th year as a Team GB team pursuit cyclist as he competed in his fourth Olympic games in Tokyo.
The story was published in The Huddersfield Daily Examiner.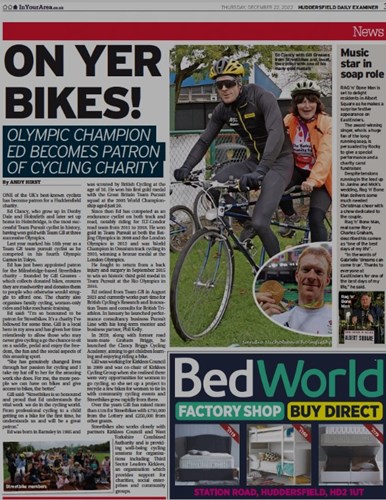 The story was used by the Yorkshire Post newspaper,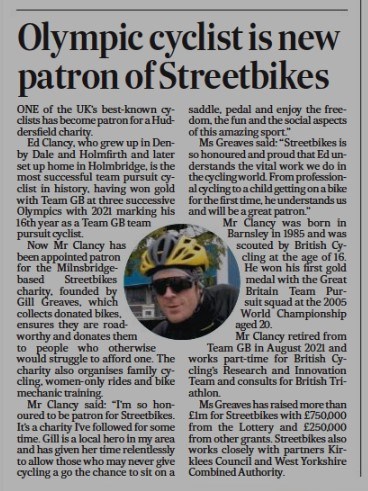 It also featured prominently on the Huddersfield Hub news website at 
https://huddersfieldhub.co.uk/triple-olympic-gold-medal-winning-cyclist-ed-clancy-becomes-patron-of-streetbikes-charity/
Ruddi's Retreat charity in Huddersfield provides free caravan breaks for families with children battling serious illnesses such as cancer, have life-limiting conditions or have suffered bereavement.
It has four caravans on the Primrose Valley Holiday Park near Filey and demand is so high with around 200 families helped each year they now need a fifth caravan … and the charity's patron, Sarah, Duchess of York, has given £15,000.
Ruddi's already has £20,000 from the Clothworkers' Foundation which gives grants to improve the lives of people and communities – particularly those facing disadvantage and marginalisation.
The charity has also just been pledged £25,000 from the Wooden Spoon charity - the children's charity of rugby which helps disabled children facing disadvantage.
It means they will now be buying a fifth caravan for a site near Blackpool within the next two months.
Andy Hirst from AH! PR wrote the story which was published on the Yorkshire Live website, the Huddersfield Hub website and in The Huddersfield Daily Examiner.
Here are the links to the stories:
https://huddersfieldhub.co.uk/ruddis-retreat-is-planning-a-right-royal-celebration-after-15k-donation-from-patron-sarah-duchess-of-york/
https://www.examinerlive.co.uk/news/west-yorkshire-news/huddersfield-kids-charity-blown-away-25857997
If you need a news release writing and submitting to the media contact Andy Hirst on 07985 654822 or email andy@ah-pr.com