Helping a tanker company get above all its rivals on Google
Yorkshire-based blogger Andy Hirst gets client virtually to the top of Google from nowhere in just 2 weeks … here's how it was done without spending a penny on Google ads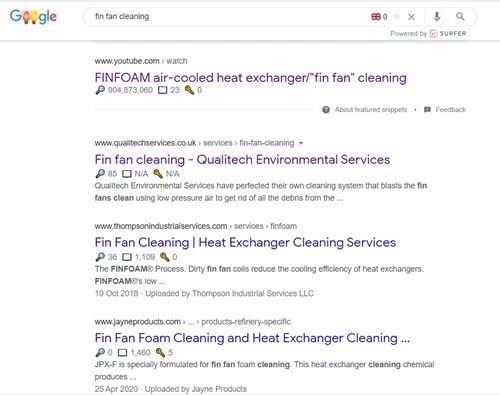 Everyone wants to be high up on Google … and another client of Huddersfield-based copywriter and blogger AH! PR is second in the Google rankings without having to spend a penny on Google adwords.
It's the latest in a number of clients who have asked AH! PR founder Andy Hirst to blog for them and have then found themselves right on the first page of Google a short time later, saving them a fortune on Google ads.
But the latest success for Merseyside tanker company Qualitech Environmental Services is the quickest Andy has ever achieved. His blog on their fin fan cleaning service went from nowhere to number 2 on Google in less than 2 weeks.
No doubt you'll be intrigued as to what fin fan is so here's the blog that explains it all https://www.qualitechservices.co.uk/services/fin-fan-cleaning
If you want to try to do the same for your business then Andy has written the ultimate guide on how to do it http://ah-pr.com/blog/the-definitive-guide-to-writing-blogs/
He said: "It's all about research and finding the right keywords to give your blog maximum search engine optimisation. I spend longer researching than I do writing for every blog I create but that's the same for most things in life … preparation is the key.
"The only real way to enhance any business's profile on the internet is through writing quality content. Look at what your rivals have written on their website or its blogs and then write something better. The theory may not be rocket science but it's vital to be able to write well and find the right keywords to make it really work for you.
"Everything you write on your website from your home page to product pages, blogs and company background can count to how highly you rank on Google.
"It's been a terrible last nine months for many businesses so one way to cut costs is to save on Google ads and try to get to the first page of Google naturally through the power of the written word."
If you want Andy to blog or do copywriting for you why not email him at andy@ah-pr.com or call him on 07985 654822. He's always happy to have an informal chat. Andy is also an experienced journalist so is an expert at writing press releases.
​