Yorkshire copywriter, blogger and freelance journalist Andy Hirst appointed charity's web editor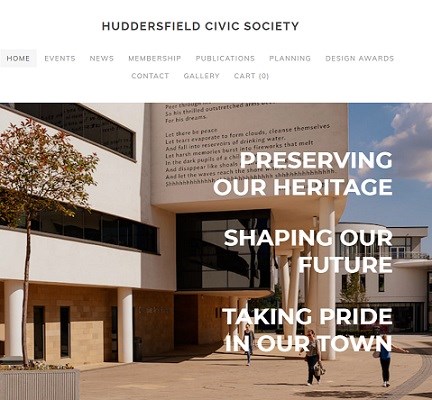 Huddersfield copywriter, blogger and journalist Andy Hirst has been appointed web editor by Huddersfield Civic Society … and is already getting them great media coverage.
Andy runs his own company, AH! PR, and was asked to help the society when renowned Yorkshire journalist Robert Cockroft decided to retire from the role.
Robert was features editor at the Yorkshire Post and wrote an award-winning restaurant review column for 29 years that was the stuff of legend. He then became editor at the Barnsley Chronicle.
Andy said: "Robert has a phenomenal reputation in Yorkshire media circles so it was an honour to be asked to follow in his footsteps and run the website for Huddersfield Civic Society.
"The society is there to guard Huddersfield's heritage and so looks carefully at planning applications – challenging where they feel they may spoil the town but also championing schemes which will be great for Huddersfield's future."
Since taking over the role on March 1, 2021 the society has been critical of controversial schemes for Castle Hill and the former Kirklees College site on Huddersfield ring road.
These have led to Andy – former Head of Content at The Huddersfield Daily Examiner – to write news releases on their behalf which have been published on news websites in Yorkshire.
Here are a couple of links:
https://huddersfieldhub.co.uk/kirklees-college-plan-a-missed-opportunity-to-improve-huddersfield-town-centre/
https://www.examinerlive.co.uk/news/west-yorkshire-news/building-castle-hill-could-leave-20277823
HCS chairman David Wyles said: "Andy has made a great start to the role and we are so fortunate to have his services after Robert retired. We had searched for some time for a replacement and Andy fits the bill perfectly with his multi-skills as a copywriter, blogger and journalist.
"We also needed someone who could step straight into dealing with our content management system and Andy has experience managing different kinds of content management systems for several clients so he got to grips with it immediately."
Anyone interested in joining Huddersfield Civic Society can find out more on their website at https://www.huddersfieldcivicsociety.org.uk/